Welcome! Here you can read and watch more about our new approach in sales development.
What does this mean for your organization?
We develop the digital modules ourselves, so customization is possible
Cost-effective – less travel or hotel costs
Flexible – when and where you want
Immediate start – start up at any time
Saves time – compared to traditional classroom training and therefore more time for your customers.
Effective and motivating – learning paths can be designed individually based on knowledge, experience and role.
Measurable return on investment
Flexible and comprehensive – Choose from our huge library
Available in more than 20 languages
This way of working gives flexibility and the possibility to develop 24/7.
In all our programs we use Blended Learning, a combination of:
Face-to-face training,
Virtual training,
Webinars,
Online portal with:

(tailored) digital learning modules

Online knowledge survey (if you master the skill you can skip the module)
Online coaching
Homework assignments

Management guidance online en offline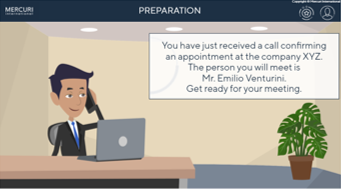 We set up the platform according to the principle of Gamification, which makes learning more exciting. The learning modules can be tailored to situations that are recognisable to the people in your company.
When people learn with recognizable situations, this not only speeds up the learning process but is also better for motivation. Relevant content from your own organization such as product training or existing parts of an academy can be offered on the platform.